Other NZ Ramsar sites to visit:
The Firth of Thames is well worth a detour to view the thousands of wader birds visiting annually. Its mudflats, shell banks, grass flats, saltmarsh and mangrove forest form one of the three most important coastal areas for shorebirds in New Zealand.
The skies above the shallow estuarine waters of the Firth are often flecked with flocks of migratory birds on the wing. In spring, godwits, knots and other migrating birds start arriving from as far away as Siberia and Alaska. In autumn, these birds fly north while at the same time native birds from other parts of New Zealand start arriving on the Firth. The most numerous of these are pied oystercatchers and wrybills.
A major feature is the 2 km wide Miranda shell bank, a globally rare land form known as a chenier plain, comprising old beach ridges left inland as the shoreline moves towards the sea.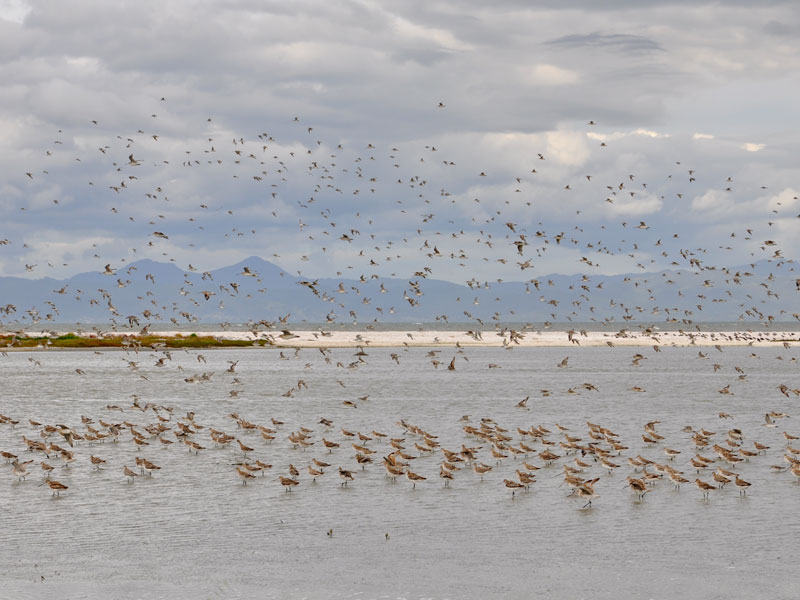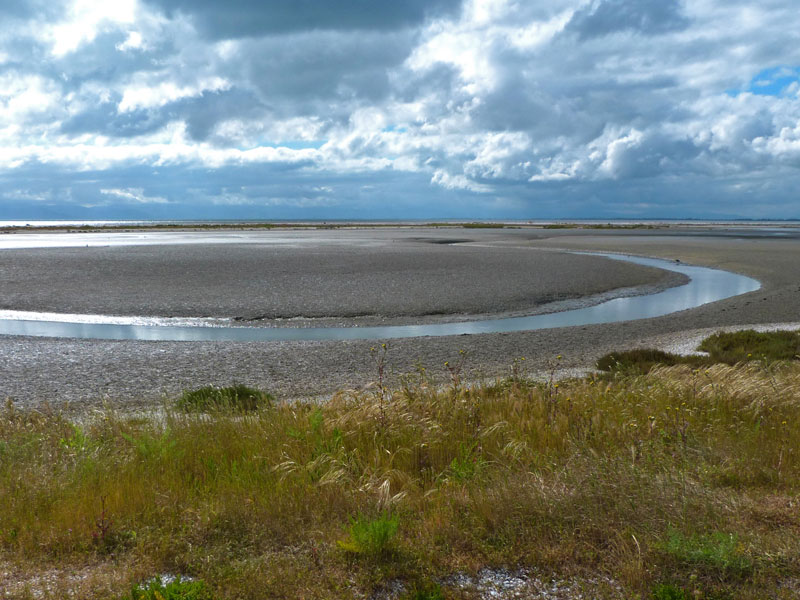 The Pūkorokoro Miranda Shorebird Centre has information and displays to help visitors find the best spots to view birds.
The Shorebird Network Site is a large (7,800 ha) coastal reserve, comprising shallow marine water, mud and grass flats, mangrove swamp, salt marsh, and swampland
Established as a Ramsar Site: 21/09/1990
The Pūkorokoro Miranda Shorebird Centre offers information, gift shop, accommodation, and guided tours by arrangement. Tel 09 232 2781
The Robert Findlay Wildlife Area is an easily accessible place to watch birds, with great views all along the coast.
Forest and Bird NZ's Karaka bird hide is open to the public at all times. There are close up views of the waders (near the Goldfields Shopping Mall, Brown Street, Thames). Take the boardwalk through the mangroves to the hide.
Monument Hill lookout in Thames has amazing views of the area. Take Waiotahi Creek Road to the top, at the north of Thames.
The rare green mistletoe (Ileostylus micranthus) grows on swamp coprosma and marsh ribbonwood trees in the Miranda area. It has small greenish yellow flowers, yellow fruit when ripe, and looks like a dark green ball in the middle of its host plant. Do not remove mistletoes, they are protected plants, and will die if removed from their host plant.