Farewell Spit's history is one of constant movement. Everything on the spit moves: the tide, sand, plants and birds. Footsteps are erased behind you. A seal, resting on the sand is hidden in a matter of minutes.
The quartz sands that make up the land here came from the Southern Alps. As the Alps eroded to a third of their original size sand was swept down rivers into the Tasman Sea.
Currents and winds still carry sand up the West Coast, sweeping out into a huge arch. With nature dumping 14 million cubic metres of sand here every year, in a few thousand years time the arch will extend to encircle Golden Bay and create a lagoon.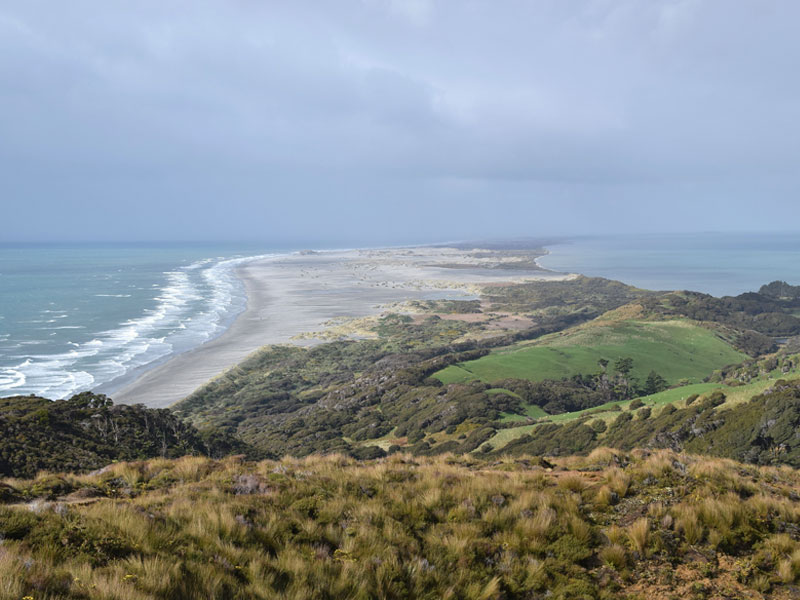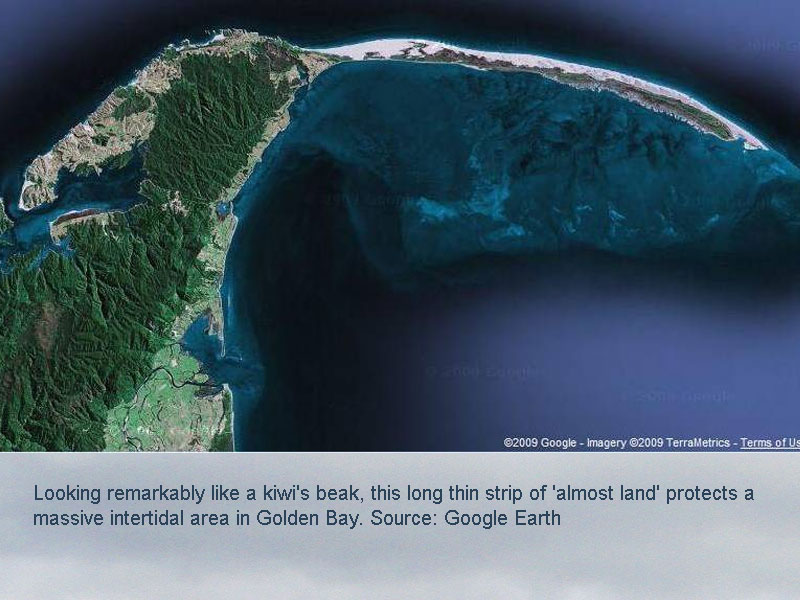 The Spit is a critical stopover for 20 thousand or so migrating wader birds, making it an internationally significant site for bar­tailed godwits, pied oystercatchers, variable oystercatchers, banded dotterel, red knot and ruddy turnstone. It's both a hugely dynamic and very diverse environment.
Its barren, windswept northern beach, sometimes with massive dunes, changes to inland lakes and sandy plains, then shrubland on the southern coast bordering a massive inter­tidal area reaching right into Golden Bay.
Native vegetation includes tiny and extremely rare pioneer plants such as the sand sedge Eleocharis neozelandica and more common species like harakeke (flax) coprosmas, manuka and ake ake. However, the exotic marram grass, once planted to stabilise the dunes, is taking over and interrupting further plant associations.
Marram threatens slower-growing native species with extinction, and can over­steepen dunes, causing even more erosion. There is on­going debate as to whether the sand dunes should be allowed to shift at will, or be "tied down".
The Shorebird Network Site (11,388 ha) Nature Reserve is managed by DoC.
Established as a Ramsar site on 13/08/76 on a 30km long sand spit, and intertidal area, extending at a rate of 15m annually.
There are magnificent views of the Spit and the Cape Farewell area from Puponga Farm Park.
Puponga Visitor Centre overlooks the Spit and the huge intertidal area. It has a café, souvenirs and information.
Farewell Spit's public access: the first 2.5 km is open to the public and offers a good impression of the Spit. Joining eco tours is the only way to get to the tip of the Spit and visit the lighthouse and gannet colony.
Driving 21 km north of Collingwood, turn left at Port Puponga, then first right across the causeway to Puponga Farm Park. Keep right at Puponga Farm Park, park at the top of the hill.