Held on February 2nd annually
World Wetlands Day is held on February 2nd annually to celebrate the 1971 adoption of the International Convention on Wetlands in the Iranian City of Ramsar.
Each year there's a new theme for World Wetlands Day and events are held throughout the country.  This year the theme is Wetlands and Biodiversity, to draw attention to the global decline in biodiversity and the crucial role of wetlands as biodiversity hotspots.
An estimated 40% of all species world-wide breed in wetlands. In New Zealand, wetlands now occupy just 1% of New Zealand's land cover but a quarter of our native vascular plants (559 species) are either restricted to, or frequently encountered in freshwater or saline wetlands. Almost one third of wetland plants are threatened or at risk.  
Thirty percent of our native bird species regularly inhabit wetlands. Migratory bird species such as red knot  and bar-tailed godwit also utilise New Zealand wetlands, which lie at the southern end of the East Asian-Australasian Flyway.
Many native fish reside in swampy areas, and a group of mudfish (Neochanna species) are adapted to living in dried up pools and tributaries, capable of burrowing into mud for extended periods and breathing through their mucus-coated skin. Some species are still being discovered and described, including the Smeagol galaxias (Galaxias aff. gollumoides) named after the swamp-dwelling creature in the Lord of the Rings Trilogy.  
The aquatic invertebrate fauna of lowland wetlands is dominated by midges, aquatic mites, copepods (swimming crustaceans), nematodes (worms) and ostracods (seed shrimps). There are many threatened invertebrate species including the stem-borer moth, Houdinia flexilissima, which is host-specific to the nationally threatened giant cane rush (Sporadanthus ferrugineus).
Listen to a podcast of Trustee Melanie Dixon talking about wetlands on the Jesse Mulligan show for WWD 2019.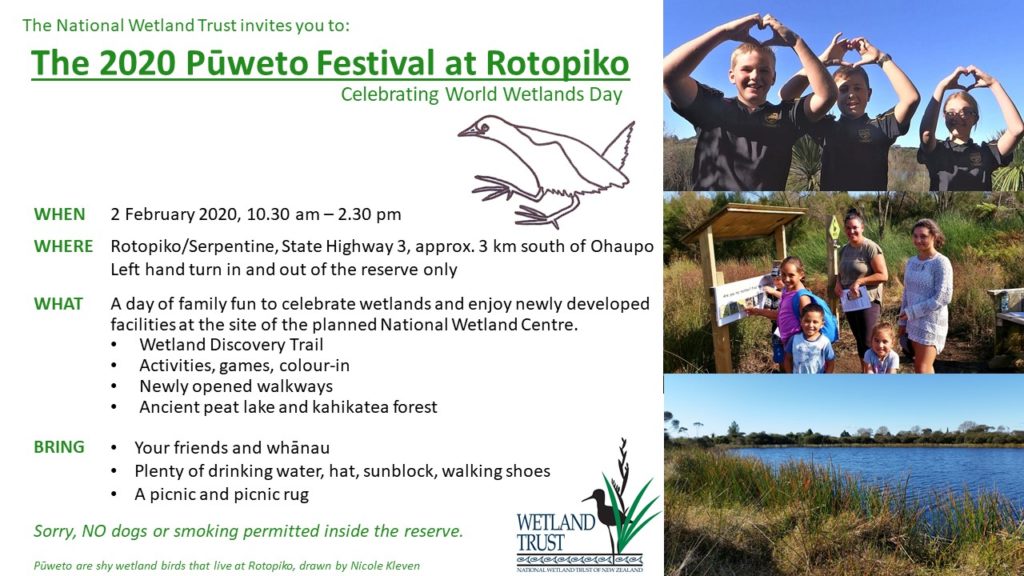 How will you celebrate World Wetlands Day in 2020?
Check out some NZ wetland events for 2020