COVID -19
TO REDUCE THE SPREAD OF COVID-19, WE ASK VISITORS TO THE NATIONAL WETLAND CENTRE TO FOLLOW THE NZ MINISTRY OF HEALTH GUIDELINES REGARDING MAXIMUM GROUP SIZES, SOCIAL DISTANCING AND HYGIENE PROTOCOLS.
The NWT is developing a National Wetland Discovery Centre at Rotopiko / Lake Serpentine near Hamilton. It will be a wildlife sanctuary with research and educational facilities, wetland gardens and heritage trails. Pest eradication and habitat restoration is already creating a safe haven for native wildlife, including North Island fernbird, spotless crake, Australasian bittern, copper skinks and long-­tailed bats.
The Centre will promote wetland types from across New Zealand, and highlight our place in the world with respect to wetlands.
This will be a place to excite, inspire, and call our community to positive action for our precious and fascinating wetland habitats. Read our feasibility study.
The Rotopiko / Lake Serpentine reserve is just south of Ohaupo between Hamilton and Te Awamutu, and is open to the public. It is close to Hamilton Airport, and many tourist attractions inlcuding Otorohanga Bird House, Waitomo Caves and Sanctuary Mountain Maungatautari.
Access is off State Highway 3, between McFall and Jary Roads (left hand turn in and out only). Pedestrian access into the reserve is via a sliding gate in the pest­proof fence. No dogs or smoking are permitted inside the reserve.  There are two easy loop walks, each about 15 minutes on gentle terrain.  Open grass areas allow for picnics.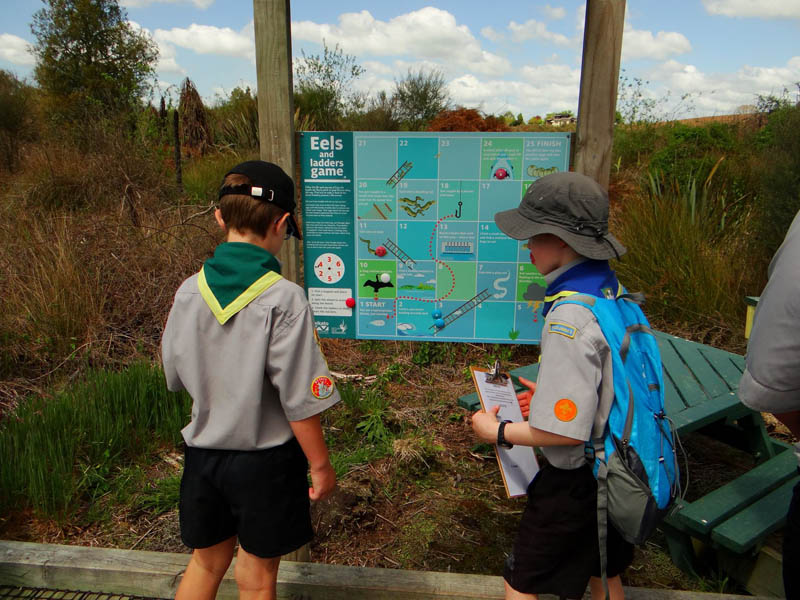 To add extra fun and learning to our visitors' experience, we have installed a Self-­guided Discovery Trail for families and school groups. The Trail has been designed to encourage kids to learn more about nature while having fun.
The 1.5 km trail has activity stations where visitors can read a story about a wetland creature or feature, and then try some simple hands­-on activities. Allow at least one hour to do the trail. See this page for information about the activity stations, with extra information and links. 
Schools/groups ­please contact us prior to visiting to register your visit, receive a health and safety briefing and to avoid clashes with other events. Teachers – we can organise curriculum-linked educational visits.
Rotopiko is also a Kiwi Guardians site. Find the secret word on the Guardian Post and claim your medal!
The three Rotopiko/ Serpentine lakes are remnants of a 10,000-14,000 year old peat lake  formed at the end of the ice-age. The lakes have some of the best water quality and natural aquatic plant assemblages in the Waikato region. 
The lake margins have well-established reed beds backed by swampy areas of flax, manuka, swamp coprosma and a magnificent mature kahikatea semi-swamp forest.
The Trust and its supporters have  planted areas of peat-forming species including the rare giant cane rush – Sporadanthus ferrugineus – re-introduced to the site along with "Fred the Thread" a moth species that inhabits the cane rush.
Other species present include Australasian bittern, North Island fernbird, black mudfish, long-tailed bats, copper skinks and spotless crakes.
Read more in our brochure.
The Waikato River Clean­ Up Trust Fund granted the NWT  $600,000 towards restoration of the Rotopiko / Lake Serpentine complex. We have also received significant support from Lottery Environment and Heritage, Waikato Catchment Ecological Enhancement Trust (WCEET), Trust Waikato, Transpower and Waikato Regional Council. 
Rotopiko is on land administered by Waipa District Council who have contributed funds and considerable staff support to the project.  We are very grateful to the DOC/Fonterra Living Water partnership and our international intern Noriko Peeters for helping us develop the Discovery Trail.
Many other community groups and local volunteers have pitched in to help this exciting project, includng Te Awamutu Rotary who produced a video of the opening of our pontoon "Poito".
We are looking for sponsors and donations to help with the restoration of the site, and are keen to hear from willing volunteers. Contact us if you would like to help with this exciting project!