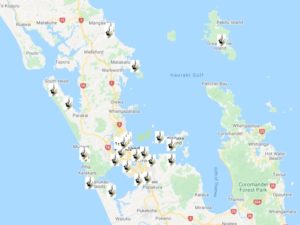 Download a list of wetlands you can visit in the Auckland Region and see our top picks below.
Find their location on Google Maps or take a virtual tour on Google Earth.
Find out more about wetlands in the Auckland Region and how to restore them
Know of a New Zealand wetland with public access? Tell us. 
This page is sponsored by the former Auckland Regional Council.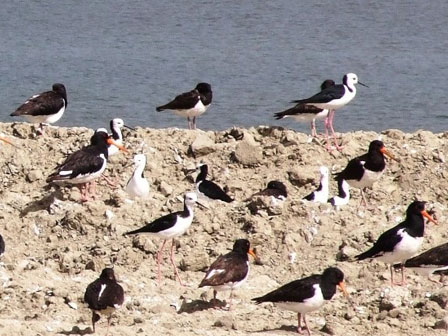 Harbour, intertidal mudflats
Ambury Regional Park contains one of six important roost sites in the Manukau Harbour.
The Harbour supports over 85 bird species, and up to 50,000 waders in season, including:
The Park and adjacent estuary have significant wader bird habitat, constructed high tide roosts and extensive regeneration plantings.
Bird hide, camping, walks, picnic facilities. Start of a 7 km coastal walk to historic Otuataua Stonefields and Ihumatao fossil forest.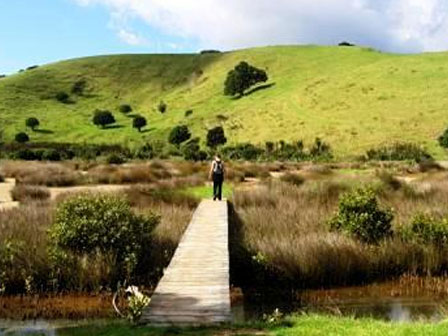 Freshwater and coastal wetland complex
Tawharanui Regional Park is a wildlife sanctuary and coastal farm park protected by a predator-proof fence.
A complex of coastal lagoon, saline wetlands and restored freshwater wetlands provides habitat for:
Boardwalks, camping, picnic sites, beaches, bird watching.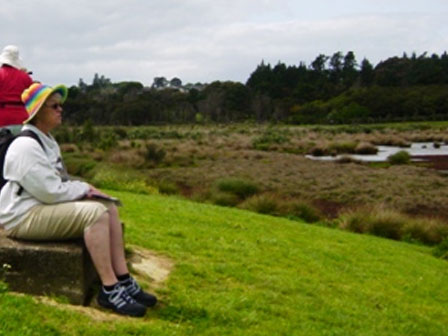 Restored freshwater wetland
This 20 hectare wetland in Meadowbank, Central Auckland has been recently restored by Auckland City Council following drainage in the 1930's. Birds sighted include:
kotuku (the rare white heron)
Little black shag and
The reserve also provides recreational space for a variety of uses. Paved walkways, bird-watching, viewing platform, picnic area.
Whatipu Dunes, West Auckland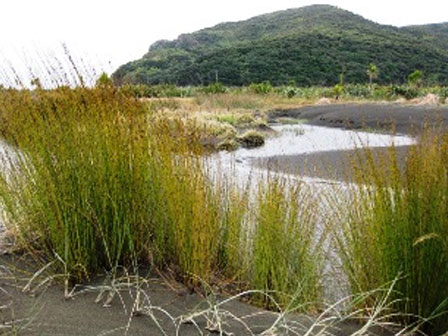 Dune wetlands, ephemeral wetlands, saltmeadows
A spectacular wilderness area, Whatipu is an extensive (1 km wide) sand flat on Auckland's rugged west coast.
Ponds impounded by stabilised dunes support:
White-faced herons
Bittern
Spotless crake
Fernbirds and
In the dune hollows and damp sand flats, saltmeadows with a range of herbs, including the rare sand spike sedge (Eleocharis neozelandica) are found.
Wilderness experience, birdwatching, walking (no formed tracks), camping, lodge. No dogs allowed. Note the beach is not safe for swimming.
Click here to take our Google Earth tour of wetlands in this region. Follow these simple steps. For best results select the Terrain box in the Layers folder on the right hand menu.
You will need to have access to Google Earth to run this programme. You can download it for free.
You can either view individual sites and associated information by clicking on them, or select the Play Tour button that appears when you click on the Auckland folder.